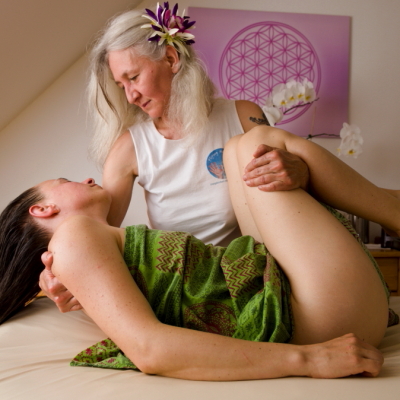 is a matter of trust and…
… like a Hawaiian getaway. It is a special form of mindful and loving touch that comes from Hawaii and is one of the pillars of this culture.
Originally, this type of treatment was reserved for the "Ali'i", the rulers of the Hawaiian Islands, and was practiced exclusively by so-called "Kahunas", the guardians of secret knowledge (Huna), in this case by the experts for Lomi Lomi Nui.
"Lomi" means to "rub, press, knead, touch", the doubling intensifies the meaning and "nui" means "big, great, unique".
Supported by the Aloha spirit, two elements are used in particular: large-scale, long strokes and passive movements of all joints. These tend to be gentle, but can also be made a little firmer if necessary or desired. A lot of oil is used (similar to the Ayurvedic massage).
This unique form of touch is accompanied by the cheerful, sometimes slow, sometimes fast music of the Hawaiian islands, thanks to which the recipient quickly feels transported to a distant world. According to the music, the touch may also vary in its speed.
I usually use preheated lava stones in the Lomi, as in the Pohaku Wai Ola. Stones are also one of seven elements in the touch form of the Kahi Loa.
A regular Lomi Lomi Nui treatment lasts an hour and a half.
On the first visit, a shorter duration of one hour is also possible to get to know each other.
The true connoisseurs treat themselves with a two hours treatment.
Or with something very special: a 4-handed Lomi Lomi Nui, in which I mindfully touch you together simultaneously with a colleague.
A Lomi is a very special experience. For me, she is the "queen" of touch.
If you would like to receive occasional information about offers about my treatments, you can register here for the newsletter.
Here you can see a video with extractions from a Lomi Lomi Nui treatment as well as photos from a session.